What is Klox?
Klox is a decorative clock that lives on your Windows 9x/NT desktop.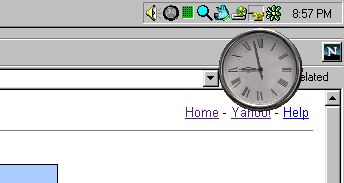 On my computer it looks like this (in the upper right corner of my screen)
Other faces are available too.

Features include:
Hourly chimes.
Many decorative faces to choose from.
Alarm that can be use the launch applications or just play a sound file.
Time zone adjustment, caption for watching other time zones.
Run multiple instances to run multiple alarms.
More clock face to chose from.
Applications can now be launched by the associated document name.
Klox is now active in the Windows system tray.
Can sync your system time to Internet UTC server.
It's Free
---

Why Download Klox?
Lets you monitor time in other cities.
Lets you set reminders for yourself such as: Lunch time, I'm on the net too long time, my food is done time...
People will say, "hey that's cool, what is that..."
It's FREE!!!
If you would like your clock's face included in the next version of Klox, e-mail me a photo of it to...
---
Installation
Click on 'Download Klox' at the bottom of this page to go to download section.
Pick a download site near you.
Copy zip file to temporary folder.
Extract files from zip archive with Winzip (just double-click on file, and click on Extract in Winzip)
Run Setup, and Follow the Instructions.


---
After Installation / Setup and Configuration
You can drag it to wherever you want on the screen with the left mouse drag
Right click on the clock to view or change options.
Double click on tray icon to bring to front
Right click on tray icon for options.
Also see the Klox Setup Page for more information.
---
Questions?
---
Download Klox!
---
Who Else is Downloading Klox?
Find out
---
Other Links
Links to Other Clocks
Links to Other Stuff
---
Source Code
Find out more